This week I added some animal print and winter white into some of my outfits and it even felt like fall for the most part! Have to admit I felt like I was breaking some fashion rule by wearing white jeans after Labor Day but they're actually "off white";) and all the fashion mags are saying it's okay to wear white in the winter! So here we go...
Sweater: Target
Tank: Old Navy
Skirt: Target
Shoes: Gap
This outfit was super comfy!
Tank: Target
Leopard Scarf: Target
Jeans: Sevens
Shoes: Target
Earings: Target
Bracelet: Stella & Dot
Still 80 degrees out in October!
Hello Fall! Nothing like a 20 degree drop the next day!
Rain Coat (it's actually cream colored;)): Michael Kors
Shirt: Target
Pants: Target
Shoes: Old Navy
Black flats would look cute with this too but I wanted to add a pop of color and nothing pops better than red!
I don't know why I'm standing like this. Told you, I'm no model, lol.
Coat, Scarf, and Turtle Neck (can't believe it was cold enough for a turtle neck!) Target
Jeans: Banana Republic
Shoes: TOMS
Sweater, Shirt, and Jeans: Old Navy
Boots: DSW
Necklace: Vestique
And just for fun I'm featuring Bennett in WKWW and linking up to: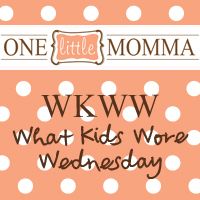 Sorry bad cell phone pic.
Puffer: Target
Shirt: Target
Jeans: Old Navy
Shoes: Target
Bennett also likes to get his clothes at H&M;)
Happy Fall Ya'll!